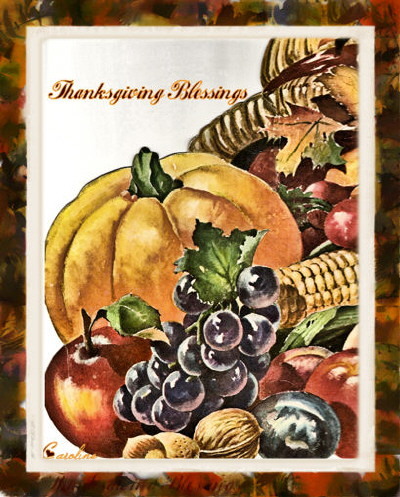 It is Thanksgiving and I have so much to be thankful for!
I am thankful for you for being my sweet blogging friends, for visiting me at Gracefully Gluten Free, and for your kind comments. No matter how boring my posts may sometimes be, I'm sure they are, you always come up with something sweet and thoughtful to say about them.
Even though some of us have never met, I have come to know and admire each of you ... not only for your accomplishments as bloggers, homemakers, teachers, nutritionist, chefs, or writers ... but also for the compassion, grace, sincerity, and kindness reflected through your words and comments, not only to me, but to others.
You always inspire me by your wisdom entertain me with your wit and humor, and encourage and comfort me by your grace and steadfast faith in the face of adversity.
Your sweet spirits, compassion for others, and devotion to your families and God always inspire me to be a better person ... and my days are brighter for having met you.
Thank you for being my friend!!